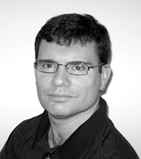 Leo is a media and communications professional with more than 10 years experience and a proven track record of bringing projects to completion within deadline. He worked as a business journalist for more than eight years, including three years as editor of the Ottawa Business Journal and its specialty publications.
As a writer, editor, PR consultant and project manager for content creation, Leo helps individuals and organizations define their message and ensure a clear and effective delivery. This extends from a local business attempting to define its web presence, to an organization positioning itself as a thought leader through a series of articles, or an industry association tackling a controversial issue in a 20,000-word study.
There is a world of difference between a great writer and a skilled cut-and-paste artist. Great writing is about much more than proper grammar and good syntax; it's a union of analytical thought, thorough research, penetrating interviews, confident creativity and an ability to distill resource material into something fresh and new that both conveys and deepens understanding of the subject matter. Great writing is the linchpin of effective communications for any organization or individual concerned about how they are perceived and understood by their target audience.
Contact Keystep for a free consultation